About The Book
---
Flask is a web framework for Python based on Werkzeug, Jinja2 and good intentions. It is considered a micro-framework, but don't get the "micro" part fool you; Flask can do everything the others can do, many times in a simpler, leaner way.
Flask Web Development is a hands-on book that walks you through the development of a modern real world application from start to end.
About The Author
---
Miguel Grinberg is a Software Developer at Rackspace, where he spends most of his time contributing to open source projects in the OpenStack ecosystem. He has a blog at http://blog.miguelgrinberg.com, where he writes about a variety of topics including web development, robotics, photography and the occasional movie review. Miguel is the author of the epic 18-part Flask Mega-Tutorial series on web development and has written several Flask extensions. He lives in Portland, Oregon with his wife, four kids, two dogs and cat.
Table Of Contents
---
Part I. Introduction to Flask

1. Installation

Using Virtual Environments
Installing Python Packages with pip

2. Basic Application Structure

Initialization
Routes and View Functions
Server Startup
A Complete Application
Flask Extensions
The Request-Response Cycle

3. Templates

The Jinja2 Template Engine
Twitter Bootstrap Integration with Flask-Bootstrap
Custom Error Pages
Links
Static Files
Localization of Dates and Times with Flask-Moment

4. Web Forms

Cross-Site Request Forgery (CSRF) Protection
Form Classes
HTML Rendering of Forms
Form Handling in View Functions
Redirects and User Sessions
Message Flashing

5. Databases

SQL Databases
NoSQL Databases
SQL or NoSQL?
Python Database Frameworks
Database Management with Flask-SQLAlchemy
Database Use in View Functions
Integration with the Python Shell
Database Migrations with Flask-Migrate

6. Emails

Email Support with Flask-Mail

7. Large Application Structure

Project Structure
Configuration Options
Application Package
Launch Script
Unit Tests
Requirements File
Database Setup

Part II. Example: A Social Blogging Application

8. User Authentication

Authentication Extensions for Flask
Password Security
Creating an Authentication Blueprint
User Authentication with Flask-Login
New User Registration
Account Confirmation
Account Management

9. User Roles

Database Representation of Roles
Role Assignment
Role Verification

10. User Profiles

Profile Information
User Profile Page
Profile Editor
User Avatars

11. Blog Posts

Blog Post Submission and Display
Blog Posts in Profile Pages
Paginating Long Lists of Blog Posts
Rich Text Posts with Markdown and Flask-PageDown
Permanent Links to Blog Posts
Blog Post Editor

12. Followers

Database Relationships Revisited
Followers in the Profile Page
Query Followed Posts using a Database Join
Show Followed Posts in the Home Page

13. User Comments

Database Representation of Comments
Comment Submission and Display
Comment Moderation

14. Application Programming Interfaces (APIs)

Introduction to REST
RESTful Web Services with Flask

Part III. The Last Mile

15. Testing

Obtaining Code Coverage Reports
The Flask Test Client
End-to-End Testing with Selenium
Is It Worth It?

16. Performance

Logging Slow Database Performance
Source Code Profiling

17. Deployment

Deployment Workflow
Logging of Errors In Production
Cloud Deployment
The Heroku Platform
Traditional Hosting

18. Additional Resources

Using an Integrated Development Environment
Finding Flask Extensions
Getting Involved with Flask
Example Code
---
The book centers around the development of Flasky, a social blogging application released as open source under the MIT license. You are welcome to review the project on GitHub at https://github.com/miguelgrinberg/flasky.
Below you can see some screenshots: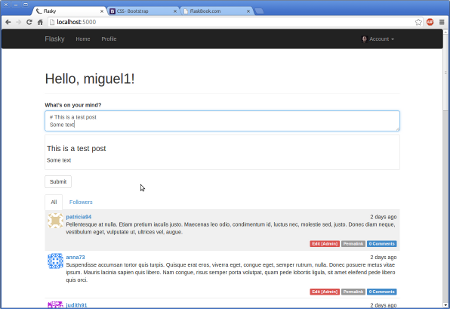 Home page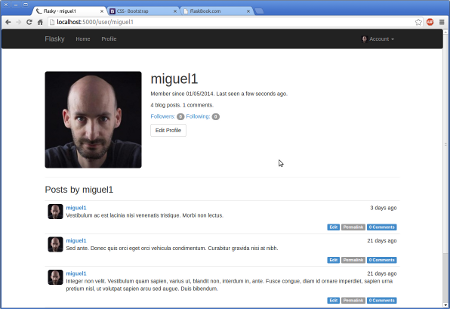 Profile page
Errata
The following corrections apply to the first edition of the book. If you have something else to report please contact the author at flaskbookfeedback@gmail.com.
Chapter 3, Example 3-3
The URL of the first route is incorrectly shown as /index, while the correct URL is /. (Reported by Farhad Fouladi)


Chapter 4, Section "HTML Rendering of Forms"
The punctuation in the first sentence is incorrect. The correct sentence should read "Form fields are callables that, when invoked from a template, render themselves to HTML.". (Reported by Ken Hommel)


Chapter 4, Section "HTML Rendering of Forms"
The first two code examples in this section show how to render a form in a template, but are incomplete as they do not show how to implement CSRF protection. The corrected examples are shown below:



<form method="POST">
  {{ form.hidden_tag() }}
  {{ form.name.label }} {{ form.name() }}
  {{ form.submit() }}
</form>

<form method="POST">
  {{ form.hidden_tag() }}
  {{ form.name.label }} {{ form.name(id='my-text-field') }}
  {{ form.submit() }}
</form>

The {{ form.hidden_tag() }} line adds a hidden field to the form where Flask-WTF stores the CSRF token. Note that CSRF support is included in Flask-Bootstrap's `wtf.quick_form()` macro, so this is only needed when rendering forms manually. (Reported by Richard Milne)


Chapter 4, Example 4-3
The text that follows the example incorrectly indicates that the format of a Jinja2 conditional is {% if variable %}...{% else %}...{% endif %}, but really should have used the term condition instead of variable. (Reported by Marco Agner)


Chapter 4, Example 4-6
In this example the line of code that reads form.name.data = '' should not be in this function, as it has no effect. (Reported by Steven Marcatante)


Chapter 5, Example 5-4
The pathname printed in the heading of this example is incorrect. The correct pathname is hello.py. (Reported by Napoleon)


Chapter 6, Table 6-1
The configuration variable that stores the email server hostname is incorrect. The correct variable is MAIL_SERVER. (Reported by Christian Hettlage)


Chapter 7, Example 7-5
A dot is missing in the import statement that imports the blueprint. The correct import statement is from .main import main as main_blueprint. (Reported by Erik de Wildt)


Chapter 8, Example 8-9
The example does not import the Length validator. The import line that imports the validators is: from wtforms.validators import Required, Length, Email. (Reported by Ken Hommel and Dan Carpenter)


Chapter 8, Example 8-20
The pathname printed in the heading of this example is incorrect. The correct pathname is app/templates/auth/email/confirm.txt. (Reported by John Baham, Jr.)


Chapter 8, Example 8-22
The redirect() call in route unconfirmed() is incorrectly printed. The correct line is return redirect(url_for('main.index')). (Reported by Arne Wiese)


Chapter 8, Example 8-23
The correct code example is shown below:


@auth.route('/confirm')
@login_required
def resend_confirmation():
  token = current_user.generate_confirmation_token()
  send_email(current_user.email, 'Confirm Your Account',
             'auth/email/confirm', user=current_user, token=token)
  flash('A new confirmation email has been sent to you by email.')
  return redirect(url_for('main.index'))

The version printed in the book has an incorrect argument list in the call to the `send_email()` function. (Reported by Wang Yandong)


Chapter 10, Example 10-8 The code example contains a typo. The line that reads db.session.add(user) should be db.session.add(current_user). (Reported by Lukasz Gabrych)


Chapter 11, Example 11-15, and Chapter 12, Examples 12-3, 12-7, 12-10, 12-11
The pathname printed in the heading of these examples is incorrect. The correct pathname is app/models.py. (Reported by John Baham, Jr.)


Chapter 14, section "Creating an API Blueprint"
The filenames of some of the files in the api_1_0 folder are in singular, while they should be plural to match the source code on GitHub. These are users.py, posts.py and comments.py. (Reported by John Baham, Jr.)